Meditation Techniques
Meditation techniques are probably the most common spiritual practices there are. They are performed by the average person, the spiritual seeker, and the most dedicated disciple, each with different intentions. Our focus here is on the spiritual seeker and the dedicated disciple who are looking for a ways to prepare for and to help to achieve Awakening.
Even the best motivations for doing meditation can become lost in the dogma and traditions of some religions and spiritual mystery schools (think Zen).  Some meditators work way too hard at meditating. This situation is worsened by gurus who push their disciples to sit for long hours and then chastise them for improper posture or not holding a mudra correctly. The harder they try, the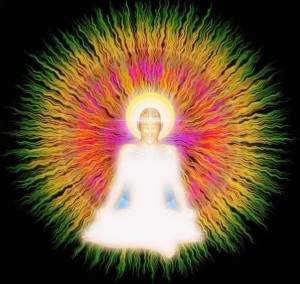 further they push away the Truth. Like Adyashanti, who practiced Zen, many have spent years meditating like this only to finally give up. Then by giving up, they stop trying, and by stopping to try, they relax and then they achieve Self-realization. Some spiritual seekers are just wired this way to try try try, it is their dharma.
Other seekers are meditating with the goal to have some fantastic out of this world spiritual experience. They think that having these experiences is what enlightenment is. They read or hear about how their teacher or another well know spiritual guru achieved a spectacular awakening and think that is the way it will be for them. Let me assure you, if you think that's what spiritual enlightenment is, you are mistaken. Dramatic experiences are nice, but they are not necessarily enlightenment. Like the Zen meditator above, some people are just destined to experience drama in their lives. So they have dramatic spiritual experiences too. However, most don't.
The ultimate goal for the serious meditator is to settle into a state of oneness or stillness on a regular bases. This creates an opportunity for the meditator to become detached from his or her thoughts and emotions. Regular practice allows the person to carry this detachment into their daily lives for longer and longer periods of time. Eventually the ups and downs of your life affect you less and less.
Detachment from your thoughts has even more benefits for the spiritual seeker. Almost all your thoughts are filtered through your ego. So being more detached allows the seeker to begin to see their ego for what it really is. It is a huge spiritual and evolutionary step in the right direction when we begin to become detached from our thoughts and ego.
During the Integration phase of Awakening, practicing deep meditation techniques is very helpful with the I got it….I lost it syndrome. The poor soul with I got it….I lost it is searching for a way back to the heaven they felt after Self-realization. When you are experiencing the oneness or stillness during deep meditation, it's like touching base with the Home world.
There are lots and lots of ways to meditate. You could spend a week researching just what is available on Google and the rest of your life trying them all. But this site is all about making your spiritual journey easier so let's look at some of the more popular systems and then a couple that I highly recommend.
1. Transcendental Meditation
From their website: [TM] It's a simple, natural technique practiced 20 minutes twice each day while sitting comfortably with the eyes closed.
Regular TM is designed for the common man. 20 minutes twice a day is great for the average person who is stressed out by life and wants to give up their anxiety medications for something more natural. So if you've got kids, a spouse, a job, and no time to sit on a cushion for hours every day then TM is perfect for you. You'll spend some money to learn TM. When it's on sale, it's anywhere from around $200 for kids up to $500 for adults.
2. OM/Mantra Meditation
Simple to learn, free, and easy to do, chanting OM while meditating is one of the most common forms of spiritual practice. Similar to TM, Mantra meditations originated from the east (Hinduism/Buddhism). You sit upright, and chant your mantra to kind of give your mind something to do so you can eventually go beyond it. You can substitute other mantras for OM although some suggest that it is the sound vibrations of spiritual words like OM that create the meditation effect.
3. Mindfulness

Originating from the Buddhist traditions, mindfulness meditation is very popular in the West right now. Focus on the breath while being non-judgmental of anything that occurs during the process is the heart of this technique. Mindfulness is also taught as spiritual practice for your daily life. The idea is to be focused on the present moment at all times instead of allowing yourself to be on auto pilot. If you have a normal busy outer life, this is easier said than done until later on in your spiritual development. So to be able to achieve results with this technique may take years of practice.
4. Zen
Zen is one of the most difficult meditation techniques to do because of the emphasis on correct posture and control of the mind. Many Zen students spend their whole lives perfecting their posture. They meditate for long hours hoping this will lead to liberation. If trying worked in the quest to achieve enlightenment, there would a lot more enlightened people in the world. With Zen, Self-realization usually happens when the student gets tired of trying and gives up.
5. Yoga meditation
There are too many different types of yoga meditations to go into detail here. Here is a list of some of them: Pranayama (breath), Kryia (Paramahamsa Yogananda), Nada (sound), Chakra, Third Eye, Gazing (at a flame, the sun, etc.), Kundalini, and Tantra (sex). You may need a guru or yogi to teach you these techniques and you can spend years perfecting them. Kundalini meditation can be rather hazardous to your physical and mental health and should not be done unless under supervision of a competent spiritual teacher.
6. Guided meditations
Depending on the motivations and competency of the person who is leading a guided meditation, it can either help the spiritual seeker or waste the seekers time. Done well, this type of meditation can be very powerful and may help one to see the light. However, most guided meditations are not designed to facilitate enlightenment. The usual motivation is some form of self-improvement, a tour of the lower dimensions, or some other metaphysical reason. Unless the person guiding the meditation is already Awakened and has the goal to help student achieve awakening, you are probably wasting your time.
7. Quantum Entrainment
Dr. Frank Kinslow has invented a unique system for attaining spiritual awareness through the use of his techniques Quantum Entrainment, Eu-feeling, and Eu-stillness. He also teaches his students a unique model of the spiritual world based on his own spiritual awakening and studies. These states of mind (for want of a better term) can be used as very effective healing and meditation techniques. In his book 'When Nothing Works, Try Nothing' he goes into great detail on how to experience Eu-feeling and Eu-stillness and how to use them as meditation techniques. Eu-Stillness appears to be the ultimate meditative state and the goal of most other practices. However, with Dr. Kinslow's techniques you skip the long hours of sitting and get right to the 'stillness' in just a few minutes. You can even do Eu-Stillness any time during your busy day. I highly recommended you check out his stuff.
8. Binaural Beats Meditation
This is the most effective meditation technique I have ever tried. It works by wearing headphones or ear buds and listening to a specially made stereo CD. A tone of a certain frequency is played in one ear while a similar but different tone is played in the other. The difference between the two regulates the meditators state of consciousness. With this system, you are able to effortlessly drop into the deepest levels of the mind. This means you'll never have to TRY to meditate again. And by dipping into the lowest levels of consciousness everyday while you are still wide awake will magnify your meditation results. I have been doing Perfect Meditation for 8 years and my spiritual growth during that time has been remarkable. I highly recommend this meditation technique for everyone.
This is not all the meditation techniques I could have discussed here, but I think you get the general idea. Check out the articles on Holosync, Perfect meditation and Dr. Frank Kinslow QE system for more information on the techniques I recommend.